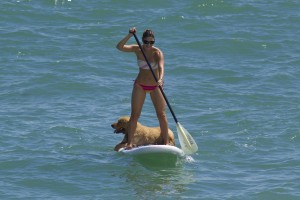 Now offering Stand Up Paddle board Rentals!
While San Blas isn't the most ideal place to go for surfing, it does happen to be an excellent area for stand up paddle boarding. Although Pacific Islanders have been paddle boarding for centuries, the activity started to become popularized during the 1960s when surfers in Hawaii began to regularly do it to take pictures of people learning how to surf. This activity has become more popular in recent years for the following reasons:
It's easy to do: Unlike surfing, stand up paddle boarding is pretty easy to do. You don't need to do much more than stand on the board and paddle along. It also tends to be easier for women to learn paddle boarding than men because of their lower center of gravity.
It provides a good core workout: The paddling motion turns out to be great exercise for your core. Getting a solid workout is a lot more fun when you do it in beautiful surroundings such as the San Blas islands!
It's fun to do: The best reason of all, stand up paddle boarding is simply super fun to do! It's especially fun when you can paddle board in the San Blas islands because the surrounding scenery is idyllic (turquoise waters dotted with islets crowned by coconut palms), the water is warm and clear, and you have plenty of room for paddling along and looking down at Spotted Eagle Rays flapping through the water beneath you.
Try stand up paddle boarding when taking one of our sailboat cruises to see why this sport is gaining popularity. If you don't want to bring your own we offer Inflatable Paddle Boards for rent.