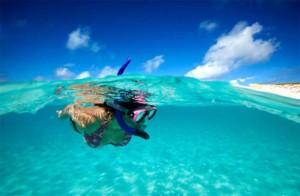 The beautiful, warm, turquoise waters of the San Blas islands are picture perfect for snorkeling and swimming. Although the local Kuna people don't permit scuba diving, the snorkeling makes up for it with dozens of colorful fish species, exotic corals, Eagle Rays that lazily flap their way through the water, and other underwater sights.
The best time to go snorkeling is from June to October because the water visibility is better and there are fewer currents. Less wind also means that there are fewer sailing boats at this time of the year and more snorkeling room for you. As for sites to go snorkeling, in the San Blas islands, it can hard to not find a place suitable for exploration with mask, fins, and snorkel! When the boat anchors, you can put on snorkeling equipment provided with each boat and check out the amazing marine life of the San Blas islands in a variety of water depths. Whether learning how to snorkel in clear, shallow water or donning snorkeling equipment to go spearfishing with the boat captains, there are plenty of opportunities for every level of snorkeling expertise.
If you just want to go swimming, the thousands of quiet, sandy beaches, and warm, clear water in the San Blas islands can make the place seem like a natural, chlorine-free swimming pool! Try diving off the back of the boat for a morning swim in paradise. The clarity of the water and big orange sea stars beneath the surface can make for a surreal, memorable swim.