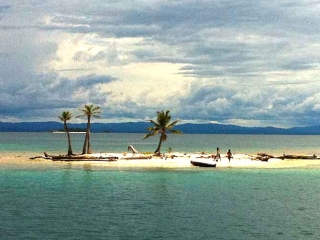 San Blas is one of the best places to go sailing in Panama. Although both coasts provide plenty of beautiful sites for sailing, the many islands, quiet waters, and interesting Kuna villages make every sailing trip in San Blas an adventure. It's also the perfect place to learn sailing tips because the abundance of tropical islands make every trip a short one. The captains of our boats enjoy teaching the basics of sailing and will occasionally hand over the wheel to people with plenty of sailing experience.
The captain and crew are always on hand for navigating through the reefs, islands, and channels of the beautiful San Blas Islands. Due to the challenges of navigating the archipelago, you can't take a boat out on your own but crews of rented sailing craft will let you lift the sail, guide the ship, and carry out other basic sailing activities. Another great reason for sailing with a captain and crew in the San Blas islands is their local knowledge of the best sites for snorkeling, fishing, and swimming. These local experts know just where to go to heighten your sailing experience in the tropical archipelago of San Blas, Panama. Even better, they also know how to speak Kuna, a necessity for communicating with the people who live in the San Blas islands.
Another benefit of going sailing in San Blas is having much of the place to yourself. Although you might see another boat now and then, the lack of a marina leaves plenty of elbow room for sailing.