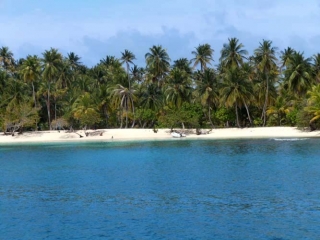 It's hard to find a more relaxing atmosphere than cruising on a sailboat in the San Blas islands of Panama. The lack of a marina makes it pretty unlikely to see dozens of loud watercraft bouncing along the surface of the water. Quiet, picturesque sailboats are the norm and the hundreds of islands make for lots and lots of elbow room. The very sound of the sea is relaxing to most and it will be a faithful companion when plying the calm, clear waters on-board one of our yachts. Sit back, enjoy the breeze off the sea and gaze at the coconut groves that line the shore. Further back, hills cloaked in jade green rainforest are visible through a haze of humidity.
Tropical islets and various parts of the coast are punctuated by quaint Kuna villages with thatched roofs. If you somehow get tired of taking in and being rejuvenated by the scenery, go for a snorkel or swim in the warm tropical water. On shore, play volleyball on a sandy beach with the local Kuna people. Relax on the boat with a wonderful meal that includes fresh caught fish.
Relaxation is a principle component of any amount of time spent in San Blas, Panama. It becomes magnified when cruising the islands on our yachts.