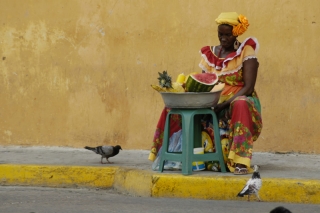 A city of legends, romance and beauty,
Cartagena 
boasts of endless interesting places that that brings magic and captivation.  This Caribbean princess will never cease to astound even to the most frequent traveler. There is always a surprise waiting at every nook and cranny of this lovely city.
A stroll through Cartagena's narrow cobbled alleys will lead you to the imposing colonial structures with lovely protruding balconies draped with colorful bougainvilleas and other tropical flowers.  Beautiful as this sight maybe but this was unable to hide the saga of this walled city that has never faded through time.  Every crevice and nook speaks of the past that until now haunts any passer-by.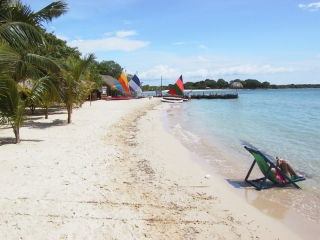 A walk to the formidable defense complex of Castillo
San Felipe de Barajas
with its batteries and parapets leads you to a striking grand entrance and a maze of intricate tunnels.  Standing at one of its parapets takes you back to the time when the fortress carried out its mission to protect the city.
The astounding museums that are cluttered around the city further cemented in your mind a picture of the troublesome past of the city as it struggled against the philanders.   The enchanting atmosphere of the City Museum Palace of the Inquisition invites a closer look at its relics. Each objet d'art symbolizes a struggle, a tragedy, and a triumph.
The stunning churches inspire trust. The magnificent Santo Domingo Church in particular exalts devotion and unity.   Symbolizing a faith that had engulfed almost half of the planet, the amazing details of the magnificent structure embodying colonial art never ceases to astound a romantic soul.
A further inspection leads you to a collection of amazing islets and islands of the city.  Each different from the other—enclosed in their own beauty and charm.  Bounded by the pristine tortoise waters of the Caribbean Sea, each island echoes the same tranquility reverberating a promise of endless beauty.