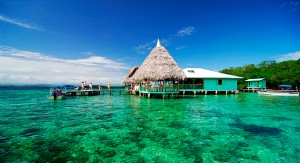 The Archipelago of Bocas del Toro is comprised of 9 islands on the Caribbean Coast of Panama near Costa Rica. The azure Caribbean waters are an ideal playground for sailboats and offer some of the best snorkeling and wildlife spectating in Panama.
Itinerary Sample: 3 nights, 4 days
Includes: all meals, breakfast, lunch, light snacks, and dinner.
Beverages: sodas, juices, water, beer, wine and rum*.
Travel from Isla Colon to Dolphin Bay around the archipelago and mainland coast of  two big bays: Almirante, between the coast and Colon, Bastimentos and Popa islands; and Chiriqui Lagoon surrounded by Popa and Cayo de Agua islands and Valiente Peninsula.