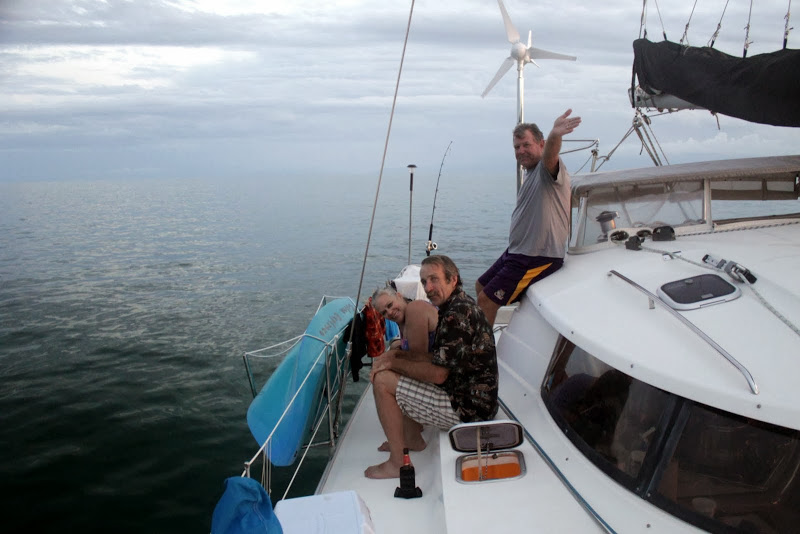 Hola Amigos,
We recently sailed out to a beautiful island called Escudo de Veraguas.  Escudo lies about 40 Nautical miles east of our home here in Bocas Town, and about 15 miles off of the mainland.  The island is uninhabited except for one or two Guaymi Indian families that live there.
One Indian fellow, Mauricio, also works with a group involved with the conservancy of sea turtles.  On all of the beaches there are dozens of turtle nests.  Each nest is marked and dated so they know when the eggs will hatch.  Then these volunteers and workers make sure the baby turtles make it safely to the ocean without getting eaten by birds.
We took 7 hours to sail there and the weather was beautiful.  Underway we caught one Creval Jack and released it because they are not very tasty as far as fish goes.  The first night we stayed and played on the South side of the island, and then moved over to the north side of the island.
Both anchorages were beautiful.  On the second day we hired Mauricio to take us on a circumnavigation tour of the whole island.  When he came over to meet us he had a canvas sack full of baby turtles that had just hatched.  We released them off the stern of the yacht.  It was quite a sight.
All of the inlets, coves, nooks, and crannies on this island are just spectacular.  And the snorkeling is also awesome.  On the second night, a group of Indian fisherman came by and sold us lobsters and big crabs for a very reasonable price. A delicious feast ensued.
Cheers to all from the sailing Salleys!