We just caught up with Jamuna Berry of www.playacommunity.com upon returning from her most recent trip to the San Blas.  Sounds like she and her group had a good time…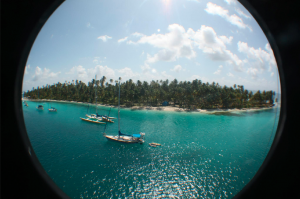 Hi Lita,

 I wanted to give you some comments on the last trip we did on Yacht Latina's 46′ Catamaran with Brais and   Geraldine.

It was the best San Blas experience ever – The boat and it's crew, Captain Brais and Geraldine had a lot to do with  making our experience amazing. The boat was roomy enough for us.  The rooms with the bathrooms, were well ventilated and cool. Considering most boats I've been on are rather hot in the rooms, we were pleased to be able to get comfortable sleeps and be cool. The crew was  enthusiastic, entertaining and very accommodating. We loved them and would sail with that pair again any time.

Thanks for all you help in making this trip a success for us. We will be back again with you soon 🙂

————-

JAMUNA

Panama Pacific beach community based news, useful information & events.